Rush Locates, LLC offers underground locating services in Oregon and Washington. Serving the Portland metro area and beyond we can help you locate what is underground quickly and accurately.
Click on a service below to get more information, use our easy booking form to schedule online, or call 503-939-9585 with any questions.
Ground Penetrating Radar – $300 for first 2 hours
Sewer Scopes  -$125 alone  in the normal Zone
Radon Testing -$150 in the Main working Area
Water Leak Locating Services
"When you're in a rush, choose Rush Locates."
Please call us at 503-939-9585 or email [email protected] with any questions you might have.
Rush Locates is open 7-6 Mon-Fri and 11-3 on Saturdays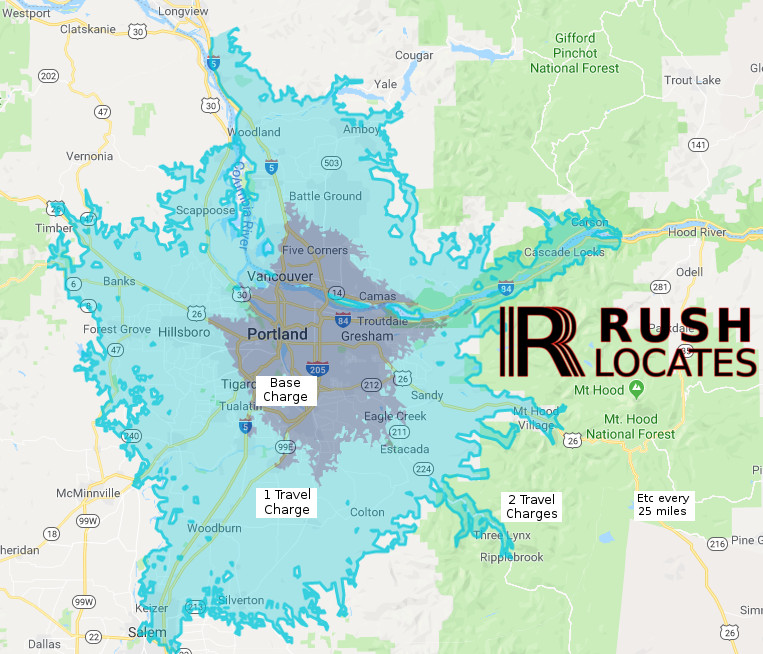 Servicing Oregon & Washington
See the above map! In Northwest Oregon and Southwest Washington our main service areas include: Multnomah County, Clackamas County, part of Columbia County, part of Washington County, & Clark County. Call us if you think you're outside our normal work zone.
Dependable Experience
Rush Locates has technology and experience to help you. Not only do we have top-of-the-line locating equipment but we have the know-how to fully utilize these tools for you. Jack Andrews, our lead locator, has years of experience working with underground locating and heating oil tanks. Jack has decommissioned roughly 1,000 heating oil tanks himself and spent years locating them and other underground objects.
Unlike many other locators who don't have training or experience, Jack has great knowledge of his instruments and what he is looking for. This first hand knowledge of the great variety of potential situations is especially relevant as a locator. Jack is also the business owner and has a vested interest in doing the best job that can be done. We want to be your first choice for an underground locating company in Portland.
Jack at Rush Locates has been featured on Portland local news, click here to see the article together with the video.
Fast Response, Quick Service
Rush Locates uses the best tools and technology! There are employees who don't understand the tools they use and companies which don't use multiple tools for tank searches. Furthermore there are hourly workers with little experience and workers not invested in their job. Rush Locates uses all the best tools and has great investment in making you happy. We want to find anything that is there. Despite what you may think, not all underground locating is the same quality. 
To ask about your project please email Jack @ Rush Locates .com or call 503-939-9585 today.