Rush Locates, LLC offers private utility locating services. We locate buried pipes and lines that 811 won't mark. Utilities become private when they go past a meter. We are an employee owned company based in Portland, OR but operate all over Oregon and Washington. We have quick turn around and affordable rates for our friendly and experienced private locator. – Call us today to see if a say-day appointment is available.

Our machines have the ability to locate utility marker balls, metal property stakes, and find the location of an electrical fault on most buried power lines. 
Cost and Area of Operation
Private utility locating costs $100 for the first hour & $75 for extra hours as long as the address is within our main locating-service work-zone. Locations outside this area will have to pay for an additional time slot and should call to schedule an appointment. The cost of additional hours of locating is the same no matter where you are.
 Schedule an appointment online or call 503-939-9585.
Estimated Time
It usually takes an hour or less to complete most jobs. This is especially true when locating a single pipe or line. E.g. When needing to locate a water line to a well or a power line to a shop.
We may need extra time when the density of utilities which are present is high (business or urban areas), when the locate distance or hook up point is far, when the terrain is rough, and when there are things which can deflect and interfere with  radio wave signals (such as ones with metal objects like fences, railings, or cars.) We can help you figure out how to get a utility map of your yard by marking all known lines and searching for unknown metal pipes and wires.
When locating in a complex or industrial area the time required for locating is higher. Rush Locates can be hired by the day for areas outside the Portland Metro area, see below for more details.
When you need private utility locating services in, Oregon or Washington Rush Locates can help.
We do more than just tank sweeps. Private utility locating and line locating includes things like: water line locating,  gas line locating, private pipe or cable locating, we can locate tracer wire, we can locate underground power, we can locate sewer pipes via a clean out and trace cast-iron sewer piping, we can locate abandoned water or gas pipes made of metal. However we cannot find all-plastic pipes without a tracer wire. Want to find a property marker? Rush Locates can come to perform a search for survey stakes or look around while we are already out there.

Just about everyone doing any digging at all is required by law in the US to use a one-call to get a public utility locate, so do that first. The regulation is in Oregon (ORS 757.542 – 562 and 757.993 and in Oregon Administrative Rules, Chapter 952) and in Washington (RCW 19.122). Furthermore 811 is a free service. They will mark all public utilities on public property for you. They and will often mark public utilities onto private property as far as the meter or meter base. Due to this often not being enough you have Rush Locates. We are here to mark anything after the meter or that 811 didn't mark.
Learn more about 811 and the requirements for digging with their FAQ.
How is it done?

Rush Locates uses high-tech equipment for private utility locating underground which can trace even small pipes and cables. We can find things some other locators can't with our tools and experience.
Jack at Rush Locates, LLC has been tracing underground cables and pipes for years. With the help of advancing technology, the possibilities for what we can accurately trace and locate have been increased.
Advanced Private Utility Locating Technology
Direct line tracing or 'active tracing' is a way to electronically charge a line with a radio wave frequency. The next step is to take a special receiver that can detect this signal and pin-point. Our tools are capable of a great range of direct line tracing frequencies including high-frequency impedance-matching transmissions for mapping small and well insulated wires and ultra low frequency transmissions for long distance locates with increased accuracy.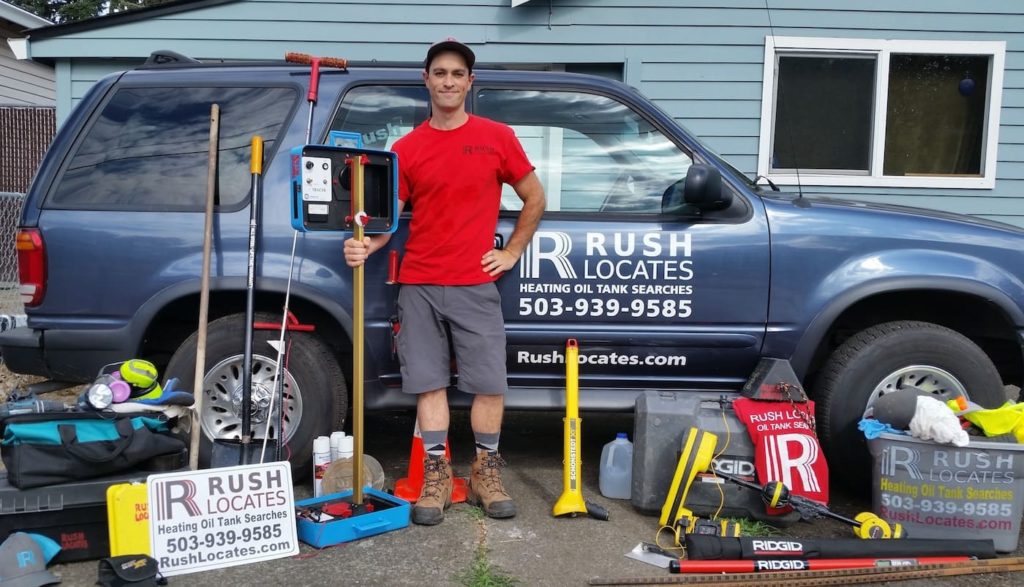 We can use inductive tracing when the pipe or cable is inaccessible. Gas pipe marking and water line locating is possible this way when it seems there are no other options. Best at moderate distances when no nearby underground pipes are present. This is a good way to trace underground utilities with no access to the tracer wire; however it is much easier to get a signal induced in a nearby line. If a tracer wire is present but isn't accessible, this is a way to get it done but the signal is easy to jump onto other lines.

Our main service area includes: Multnomah County, Clackamas County, part of Columbia County, part of Washington County, & Clark County. – Scan your lot for private utilities today.
Private Utility Locating by the Day
If you need to use our private utility locating services as a subcontractor then please review our rates. A 8-hour day work day costs $600, with a $100 per diem if outside our normal working radius. For private locating by the day which is outside our normal work zone the travel fee is $200 per 100 miles.
E.g. The trip to Klamath Falls is about 300 miles from Portland and we would charge about $600 to drive there and back. Astoria is 100 miles and the travel charge would be $200.
Emergency Locator Service
We also offer an Emergency Private Utility Locate Service for after hours private line traces. We can trace metal pipes and intact tracer wire. The tracer wire is just a wire and usually comes out of the ground at gas meter, water meter, or the water shut-off. After hours private utility locating costs $300 for the first hour on site and $100 for any additional hours. For an emergency water pipe location call 503-939-9585.
Go Back to: