Rush Locates, LLC performs Oil Tank Searches and Private Utility Locating in Oregon and Washington. We have fast turn around and we can get your private utility lines marked quickly. When you're in a rush, choose Rush Locates.
You can see our real time availability and quickly schedule an appointment online by clicking here or feel free to call or text 503-939-9585. We are employee owned and based in Portland, OR but we work in all near by areas. You can see our fees online, including any travel fees for far away locations.
We offer two main services, below is a short description of them and a link to more information.
Oil Tank Search services from Rush Locate typically takes around 45-60 minutes and costs $100 per tax lot. Our Locator Jack has found tanks missed by other companies and locators! Don't lose thousands of dollars in the future to save a few dollars today, call us now.
Private Utility Locating services costs $100 for the first hour and $75 per each additional hour. Most basic private utility locates take less than an hour to complete. This service includes locating: electrical lines, sewer lines (from a cleanout), metal pipes such as water lines and gas lines, tracer wires, accessible conduit that our traceable rod can go down, locating EMS balls, and low voltage communication lines.
Sanitary System Search costs $200 / hour and consists of searching the property in the area of a suspected cesspool or septic tank as long as the ground is not heavily rocky or solidified clay. This service cannot be performed everywhere so please call us to discuss scheduling.
Get a Radon Test, Sewer Scope, & Oil Tank Sweep – for only $339 with our partner companies – Click here to schedule this package online at any time of day.
Oil Tank Search Service & Private Utility Locator Rush Locates, LLC – Oregon & Washington
We work all over the Portland, Oregon Metropolitan area including Washington.
Rush Locates is open M-F 8AM-6PM & 11AM-3PM on Saturday – 503-939-9585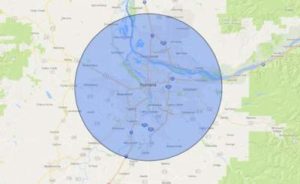 Servicing Oregon & Washington
See the above map! In Northern Oregon and Southern Washington our main service areas include: Multnomah County, Clackamas County, part of Columbia County, part of Washington County, & Clark County. Call us if you think you're outside our normal work zone.
Dependable Experience
Rush Locates can help you get a residential heating oil tank locate in Oregon or Washington nearby Portland. Jack Andrews, our lead locator, has years of experience working with underground heating oil tanks. In addition to searching for them he has sampled, removed, and decommissioned around 1,000 heating oil tanks.
Unlike many other locators who don't have training or experience, Jack has great knowledge of his instruments and oil tanks. This first hand knowledge of the great variety of potential situations is especially relevant as a locator. Jack is also the business owner and has a vested interest in doing the best job that can be done. We want to be your first choice for a locating company in Portland. Be it for our tank location service or our private utility locating service.

Jack at Rush Locates has been featured on Portland local news, click here to see the article together with the video.
Same-day Oil Tank Sweep or Private Utility Location
Call us if you need a Same Day Appointment in the Portland metro area. If we're nearby we can help you right away with an accurate oil tank scan or private utility locate. Our locating services are available for both residential and commercial properties.
Of course we deliver high quality oil tank scans but not everyone is looking for an oil tank sweep. For people who aren't buying a home and need to mark or locate private utilities, we can help! See Our Services to learn more about what we offer, or check out the Information page.
The Best Oil Tank Scans in Oregon
See our reviews and rating from Google users!
Rush Locates uses the best tools and technology! There are companies which don't use multiple tools. Furthermore there are hourly workers with little experience, and workers not invested in their job. Rush Locates uses all the best tools. We want to find anything that is there. Despite what you may think, not all tank searches are the same quality.
Find out why you should perform an oil tank search with every home purchase or check to see if you have any of the Signs of Oil Heat.
To ask about your project please email Jack @ Rush Locates .com or call 503-939-9585 today.
Learn more about oil tanks and home inspections
While you're here to learn be sure to check out our information page which is packed full of useful information for realtors and homebuyers. Jack uses his years of environmental construction and mitigation background to tell you what you need to know. Whether you want to know what a cesspool or septic tank is, what radon is, know if you should perform a sewer scope, or just want to find out more about Washington & Oregon oil tank decommissioning. If you've got questions then we've got answers.
You can always call and ask us questions, however if you send us a photo of anything concerning and we can let you know our opinion on it too.